Welcome to The Lady's Vanity
---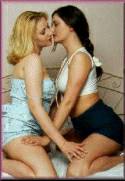 She plays with me. We both know she can have any lover in creation and she plays with me. I've spent long soft afternoons in her lap feeding her strawberries, caressing her flesh with a plume, listening to her stories, her silly interminable stories. She's asked me every dumb riddle in the mystery of the world: I cannot always guess the ones in Greek. I tell her puns, she beats me to a froth with feather pillows. Sometimes I make her laugh. She plays with me and I play back.

The Vanity Is For Women Only
If you're a gay male , there is the Men's Tool Room for your use.
This is not a BDSM room. We have two of those, the Bastille and the Dungeon. Do not log into this room with reference to BDSM and do not post BDSM pictures.

PLEASE NOTE: Seems we are having a few guys masquerading as women. From now on, any found doing this will be BANNED from FantasyCastle for a week or more on the first offense. Additionally, any FEMALES who knowingly encourage the guys to break the rules by flirting or cybering with them, will receive the SAME TREATMENT! In all cases, log in using a name, and nothing sexual or indicating a minor or drugs might be involved.
---
Special Notes:
HTML and Images are allowed.

Review our Chat Help

Click Here

Please observe O/our decorum and policies as W/we observe others when travelling throughout Fantasy Castle......
---
Enter Information Below:
---
---
---
Due to the adult nature of conversations that may occur you are required to be 18 years of age to enter.
---