---
Welcome To the Fantasy Castle Black Satin Sheets!
---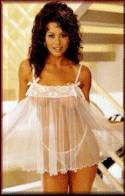 A single candle illuminates a large room, scented with Jasmine. A soft rustling is heard upon the bed, drawing your attention there. The candlelight casts a golden glow upon woman, the royal concubine, writhing as if being posessed by a lover, when in fact, it is an incubus that haunts her dreams, claiming her as his own. Beside her, the Laird of the castle, her beloved, is moving under the magical possession of a succubus. He moans, his hips thrust. They lay upon black satin sheets, gilt upon onyx, a gift to the unseen. Their bodies quiver beneath the apparitions. Consumed by passion's fires, they cry out as they plummet from the peak of ecstacy ... Then all is still .... The sheets rustle once again, covering them damp, shaken and sated, and the candle snuffs itself. Enter the sensual world of black satin, candlelight, incense and the supernatural.
In all cases, log in using a name, and nothing sexual or indicating a minor or drugs might be involved.
---
Special Notes:
HTML and Images are allowed.

Review our Chat Help

Click Here

Please observe O/our decorum and policies as W/we observe others when travelling throughout Fantasy Castle......
---
Enter Information Below:
---
---
---
Due to the adult nature of conversations that may occur you are required to be 18 years of age to enter.
---