Welcome To The Fantasy Castle's J'cuzzi.
---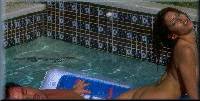 In all cases, log in using a name, and nothing sexual or indicating a minor or drugs might be involved. Slide into the J'cuzzi were it's always warm and soothing. Whoops I thought that was my leg I was touching! Sorry *Sly Grin* won't happen again I promise; maybe. Lets all toast to Frivilazation with a glass of Champagne as we enjoy the Bubbling J'cuzzi Water.



---
Special Notes:
HTML and Images are allowed.

Review our Chat Help

Click Here

Please observe O/our decorum and policies as W/we observe others when travelling throughout Fantasy Castle......
---
Enter Information Below:
---
---
---
Due to the adult nature of conversations that may occur you are required to be 18 years of age to enter.
---